Marcus Aurelius once said "Waste no more time arguing about what a good person should be. Be one". Jim Dolan wasted no time, not only being a "good" person but dedicating his life to improving other people's lives, as well.
Jim, a 13-year veteran of the US Air Force who through his love and passion for kayaking, fishing and his fellow brothers founded Heroes on the Water (HOW). HOW provides to first responders, veterans and their families recreational therapy in a welcoming and safe environment. Over the years, the organization has become 62-chapters strong nationwide and counting, with thousands of individuals benefiting from this so important and noble cause.
Below, Chris Payne (https://payneoutdoors.com/)  and Dean Thomas (https://www.slowrideguide.com/) share with us their experience of having the fortune to meet and call Jim a friend. 
Chris Payne:
"I met Jim Dolan at a kayak demo day for Mariner Sails in 2013. The event was also a Heroes on the Water fundraiser and I heard Jim tell about the purpose and mission of HOW. I really didn't know much about HOW previous to that day but wanted to know more. We spent over an hour while lunch was being prepared talking about logistics, chapters, locations and the best way for me to get involved.
Jim was a larger-than-life character. He seemed to always have a smile on his face, probably because he was always talking about Heroes on the Water.
On a cold March morning in 2014, I joined Jim for breakfast in a hotel lobby in Paris, Tennessee to talk about Heroes on the Water and how I could help in my local area near Ft Hood, TX. I asked why we didn't have a chapter near the largest military installation in the US and he thoughtfully answered me. He explained that everyone who wanted to get involved seemed to be active duty. We needed people rooted to the area to take on the task. I knew the work and organization it would take but didn't have the time needed to be the president. Luckily, at the same time, Greg Sterley was sending emails asking the same questions. Greg was active duty but we thought together, with the help of Nathan Franks, we could get a Ft. Hood Chapter of Heroes in the Water launched. We game planned for succession when the time came for Greg to leave and found our future and current president Frank Aguilar.
 Jim pushed me to be honest with myself about time commitments and regardless of how bad I wanted something to come to fruition to not overpromise what I could deliver. That thoughtfulness has stuck with me. I have had the pleasure of working alongside volunteers like Greg, Nathan, Rick, Bert, Ryan, Jared, Dianne, Jon, Frank and so many more with hearts for our soldiers. The missions they have served for these veterans have made a difference to the soldiers, first responders and their families for decades to come that may have had a bitterer ending without the work the volunteers provided.
 As I reflect back on Jim's wisdom and passion for the veteran community, I can't help but be grateful. I have newfound brothers and sisters who carry on that passion all around the United States because they heard Jim's story at some point, felt inspired and asked how they could help.
It's amazing how therapeutic a plastic boat and some comradery can be."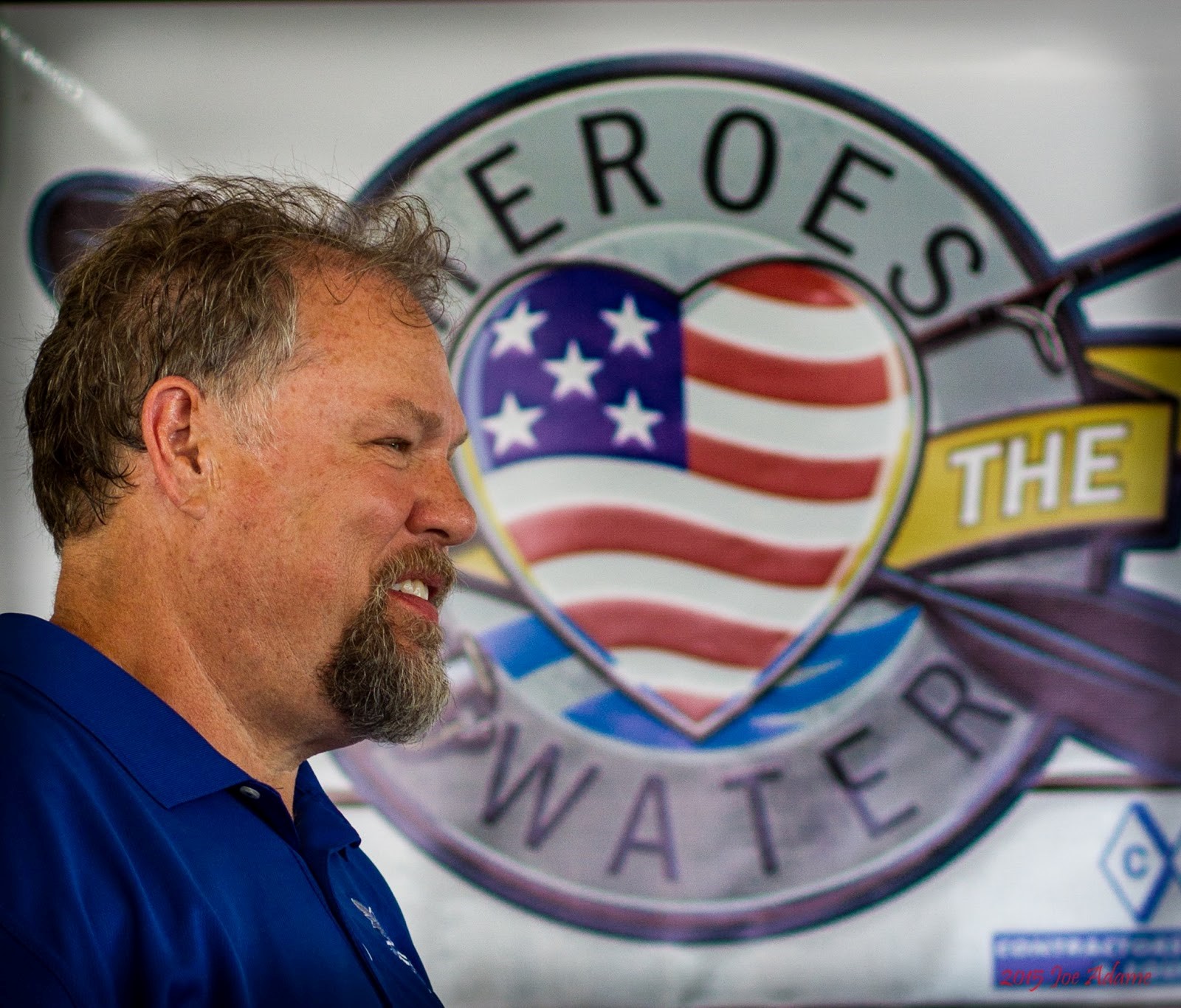 Dean Thomas: 
"I met Jim Dolan via the Texas kayak fisherman website from way back in the day before there was social media. It was a chat board for kayak fisherman, and he attended a fishing class that I hosted at my shop and that was the first time we met and fished together. It was during that class that he got his nickname Double Dip because, as he launched on his very first kayak fishing trip with me, he rolled out of his kayak twice… thus Double Dip became his nickname.
Jim was an incredibly fun-loving man, but his size intimidated at first. When you got to know him, you would soon realize that he was the most kind, caring person you ever wanted to meet. He worked hard for many years and I got to know him during his transition into retirement. A well-deserved retirement and time on the water was Jim's goal and he certainly did enjoy the times that we were out there. He laughed and lived his life to the fullest, and he was never separated from his lovely wife Sally on all of their excursions.
Heroes on the Water was such an incredible part of Jim Dolan's story and I was humbled to be there to witness it. Jim would take the time and really care and listen about each and every problem and focus on it intently to make it right. He really was a fine human being that wanted a better life for veterans who are coming home with struggles. Many lives were saved and many families were given a better future because of Jim's commitment to the program. 
Jim's impact and memories will be felt around my shop forever. He was such an integral part of helping me rebuild my house in my life after it was devastated by the hurricane that every board here has a reason to carry on. Jim's impact on the community has been multifaceted for many years, it started with his efforts with Heroes on the Water and then migrated to the coast and made a supreme volunteer effort with the hurricane cleanup for many months as soon as that was over he went right back to pounding the pavement for Heroes on the Water. He was a member of the yacht club and volunteered for numerous community outings where everybody he worked with was so happy to always see his big smiling face.
I had the pleasure to fish with Jim's son Justin a couple of times and it was always great to be out there with those guys. The family enjoyed a lot of outdoor activities together and it was always fun to spend time enjoying the water with the family. 
Jim's legacy of providing for wounded veterans through kayak fishing will carry-on. It was such a great cause and he provided such great leadership that the groundwork that has been laid will carry-on for many years. So many members of the kayak fishing community all over the country were really attached to Jim and his stories and laughter will be heard through many tales as the legend continues.
Jim Dolan is one of those people that if you get a chance to cross paths with in your life you should consider yourself very lucky, I was very lucky to consider this man one of my best friends and one of the best fishing buddies a person ever had. I am thankful to have had him in my life for the time that I did in those values that he represented are instilled in me and in turn with the people that I cross paths with. So in closing, I would like to say what an incredible brother Jim Dolan was, we miss you dearly and we look forward to the day we meet again."
Learn more about Jim here: https://heroesonthewater.org/operation-double-dip-1/
Visit heroesonthewater.org to find out how you can get involved or to find a chapter near you.